Since the start of business, Asahi Net has consistently pursued to innovate forms of communication. Following is a lineup of services we offer.
Internet Connection Services of Asahi Net
Asahi Net is an internet service provider offering wide lineup of internet connection services from fiber-optic to mobile, allowing users to select services according to their lifestyle and devices they are using.
We continue to offer reliable and useful internet connection services through our high-quality network and customer support that is quick and accurate in response.
Asahi Net - Ranked No.1 for Customer Satisfaction
Chosen by customers for 30 years
Asahi Net receives high evaluation from users in customer satisfaction surveys of ISP run by external parties.
Number of Asahi Net Members
Cloud-based Camera Solution AiSTRIX
AiSTRIX is a high quality and reliable camera solution employing dedicated access line. It is the only solution of the kind available in Japan provided by ISP Asahi Net.
AiSTRIX is an innovative camera solution that has it all. A dedicated access line that is extremely secure and high in quality, compatibility to over 5,400 types of camera bringing multi-vendor features, and flexibility supporting installation of cameras of all sizes.
Omakase Router
Omakase router, or managed router, is a network solution service offered to businesses in retail, restaurant and service industries that operate multi-stores nationwide.
By providing router rental service, dedicated support desk, configuration and maintenance support in package with the conventional internet connection service, we support business expansion of our clients.
IPv6 Connection Service v6 Connect
v6 Connect is a roaming service using native protocol IPv6 internet connection (IPv6 IPoE) offered to telecommunication operators.
IPv4 over IPv6 connection via IPIP protocol and DS-Lite protocol is also offered as an optional service.
This service enables ISP and telecommunication operators (VNO) to provide native IPv6 internet connection with their telecommunication services to their members who are using NTT East/NTT West FLET'S Hikari Next or FLET'S Hikari Light. There is no need for the operators to set up their own telecommunication facilities.
Learning Management System manaba
manaba is a learning management system developed, marketed and supported by Asahi Net.
Serviced to universities in Japan, manaba not only performs as a learning management system but also serves as a total solution service aligning smoothly with universities' current internal systems and with external educational resources.
Number of universities/junior colleges implementing manaba in their schools as a whole
Calculation based on the number of university students indicated in the Statistical Abstract 2020 Edition issued by Ministry of Education, Culture, Sports, Science and Technology, and the number of manaba member students.
Live Survey System respon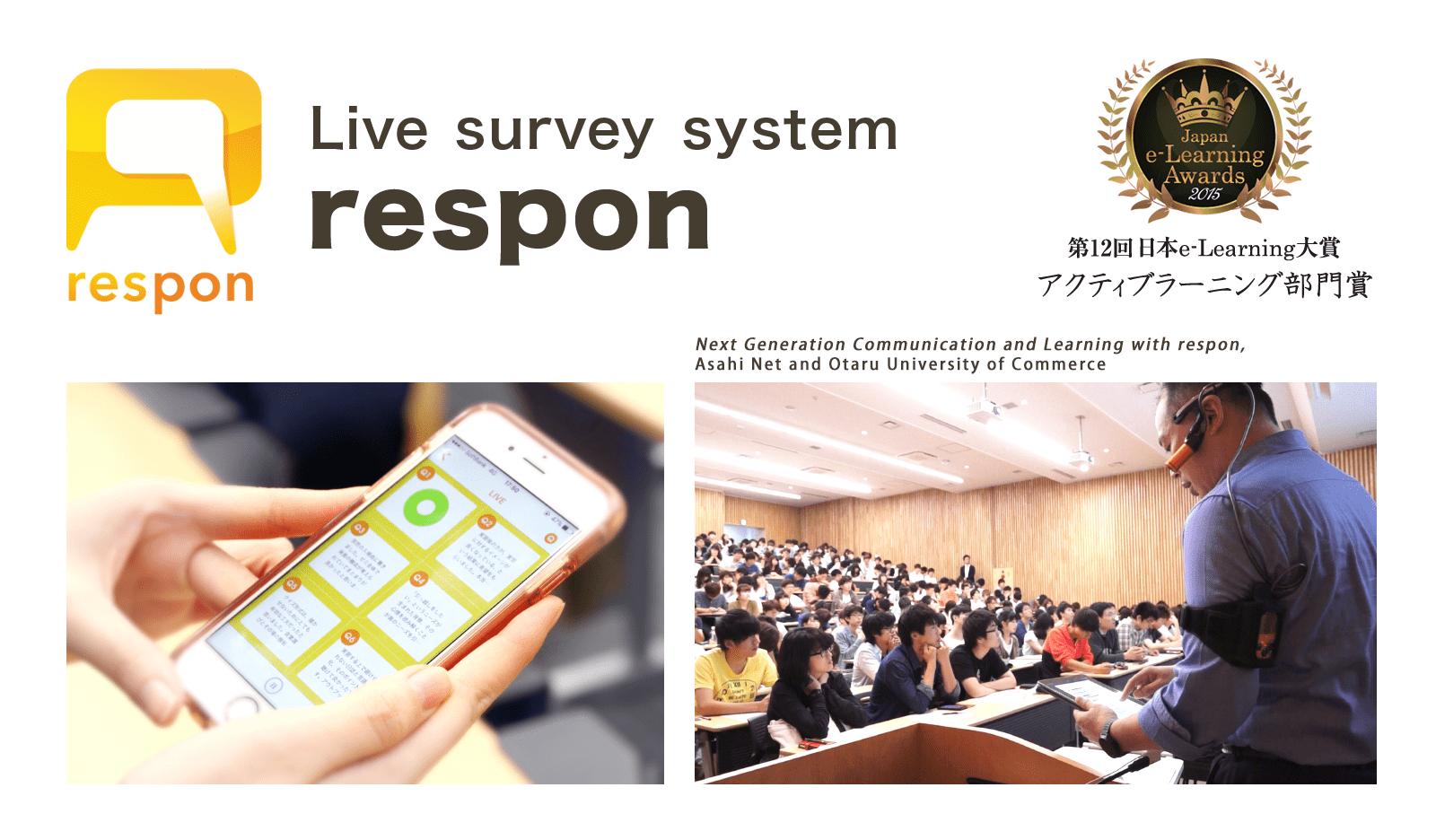 respon is a massively multiplayer online (MMO) survey application.
Hundreds can respond to a survey and the results can be shared in real-time.
Growing number of universities around the country are implementing the application as a tool to achieve an active learning environment, which has recently been drawing an increasing attention. With the application, every student in the class can mutually share their thoughts and opinions.
respon is a registered trademark of respon, Inc.